3 Reasons Athletes Would Rather Have Smaller Breasts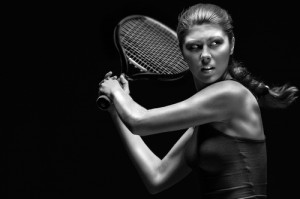 Of all the cosmetic procedures available, breast reduction surgery is perhaps one of the most liberating. Most women who desire this procedure want more than just a smaller breast appearance; they want freedom from the back pain, skin irritation, wardrobe issues, and physical limitations that often result from large, heavy breasts. For professional athletes who depend on their body's performance to make a living, these frustrations pose an even greater threat to their quality of life.
1. Excess Weight
According to research, a typical A-cup breast weighs almost half of a pound, and every additional cup size adds another half-pound to a woman's frame. Although this may not sound like a lot of weight, for professional athletes, every ounce can affect their performance. This was the case for Romanian tennis player Simona Halep, who underwent breast reduction surgery at the age of 18 because her heavy breasts were slowing her reaction time. She reduced her cup size from a 34DD to a 34C. Since her breast reduction, Simona has won six Women's Tennis Association (WTA) titles and was named the most improved player by the WTA as well as ESPN Center Court. Currently, she ranks number one in Romania and number three in the world for tennis. Although breast reduction surgery wasn't the only cause of Simona's success, we believe it certainly helped.
2. Clothing Malfunctions
A sports bra that properly compresses and supports the breasts is hard to find, and well-endowed female athletes often try to compensate by wearing two sports bras or even taping their breasts. For Ultimate Fight Championship competitor Ronda Rousey, her flimsy sports bra was no match for her bulging bustline during the first UFC women's fight of the season last year. Once she flipped her opponent to the floor, she used precious seconds to adjust her bra straps and got kicked straight in the chest. Throughout the entire match, she was trying to prevent a wardrobe malfunction.
3. Pain
Pain and discomfort are also a major problem for athletes with larger breasts. During the 2012 London Marathon, one-third of the female runners reported breast pain, the proportion of which increased as the cup size increased; one-fourth of those with a cup size of A reported experiencing breast pain, whereas one-half of those with a cup size of F or larger complained of frequent breast pain.
Although the drawbacks of larger breasts are intensified among professional female athletes, they are no less frustrating for the rest of the female population. If you suffer from pain and discomfort because of your heavy breasts, the cost of breast reduction surgery may be covered by insurance.
To learn more about breast reduction surgery, please schedule a consultation with board-certified plastic surgeon Dr. Jaime Rodriguez Sierra by calling (888) 478-4690 or by filling out our online contact form today.